Enthusiastic members of the Boston tech community gathered at MassChallenge on Wednesday, August 6th, eagerly looking forward to a night of networking, learning, and fun at the inaugural Reality Computing Boston Meetup. The heart of the innovation economy was present, as 100 Bostonians ranging from researchers, executives, and analysts to curious college students conversed, learned and immersed themselves in discussion surrounding spatial sensing, 3D scanning and printing, CAD modeling, and augmented reality. 
The night started off with photo opportunities with the globe-trotting 3DRV! 
In the first presentation of the night, Autodesk's Rick Rundell discusses the basics of Reality Computing, explaining the meaning behind "Capture, Create, and Deliver".  He introduced Reality Computing with a parallel to the music industry. Just like MP3s changed the music industry, so will reality data change the way anyone who designs, produces, or manages physical stuff uses digital tools.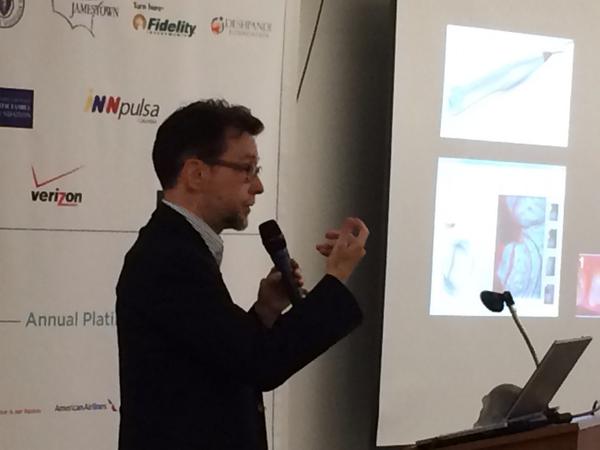 Autodesk's Rick discusses parallels between music and reality data in "An Introduction to Reality Computing".
Following Rick, fellow Autodesker Tatjana Dzambazova gave a live presentation of her popular TED talk, "The Future of Our Past". Tatjana describes the ways through which Reality Computing, and photogrammetry specifically, can be utilized to recreate virtual models that allow us to preserve and examine history and nature. If you weren't able to catch Tatjana's talk live, check out our blog post on the subject for a video of the TEDx talk.
Tatjana showing how virtual models of historical figures have been used by the Smithsonian to make learning and exploring more accessible.
The technology-demo portion of the night began with DotProduct , a local startup that sells 3D handheld data capture technology. Tom Greaves from the DotProduct team gave a rundown of the state-of-the-art DPI-7 Scanner, which not only gives users the ability to capture reality data from a handheld device, but to also append new data to a previously captured 3D image.
 Tom gives a live demonstration of the DPI-7 Scanner to 3D enthusiasts.
Following that was Mebotics, a company invested in developing a 3D-printing CNC-milling hybrid machine. With just a 2-minute pitch, Jeremy Fryer-Biggs explained how the desktop  "Microfactory" will revolutionize small-scale manufacturing by enabling users to produce objects using both additive and subtractive manufacturing within the same machine. 
The Microfactory by Mebotics was quiet enough to run during the presentation!
A special thanks to MassChallenge, who graciously offered their space and assisted greatly in the preparation of the event!
Not able to make it to this Meetup? Don't worry, another one is on the way, so join the Reality Computing Boston Meetup Group for regular updates.  Not around the Boston area? Head over to our Meetups page to find a Reality Computing community near you!